Where the game is played:
Stadium: Arechi
City: Salerno
Capacity: 37894 spectators16:53
At the Arechi stadium everything is ready for Salernitana-Venezia, recovery of the twentieth matchday of Serie A.16:53
The two teams play the match scheduled for Epiphany and canceled for too many Covid cases among Campania: completely different conditions of squad and form compared to four months ago, it remains an authentic salvation play-off. The grenades, unbeaten for four rounds, could overtake Cagliari; the arancioneroverdi, returning from nine defeats in a row, are on the last call to get back in the running.16:56
Here are the formations. Salernitana with the 3-5-2: Sepe – Gyomber, Radovanovic, Fazio – Mazzocchi, Coulibaly, Bohinen, Ederson, Zortea – Bonazzoli, Djuric. Available: Belec, Russo, Gagliolo, Ruggeri, Dragusin, Obi, Kastanos, Di Tacchio, Capezzi, Perotti, Mikael, Verdi.17:41
3-4-1-2 for Venice: Maenpaa – Svoboda, Caldara, Ceccaroni – Mateju, Ampadu, Peretz, Haps – Aramu – Okereke, Henry. Available: Bruno, Makadji, Ullmann, Crnigoj, Busio, Fiordilino, Tessmann, Kiyine, Cuisance, Nani, Johnsen, Nsame.17:40
Nicola finds Radovanovic in the center of defense and opts for the Bonazzoli-Djuric attack tandem with the former Mazzocchi and Zortea on the flanks.17:03
Soncin opts for Aramu behind Okereke-Henry. A starting chance for Svoboda in defense and Peretz in the middle.17:38
The warm-up phases are over, soon the start of the race directed by Mariani.17:42
1 '
START Salernitana-Venice, green and black ball.18:00
1 '
Punishment by Aramu, Okereke tames for Ceccaroni, right blocked in two halves by Sepe.18:02
3 '
Zortea reaches the bottom, Svoboda concedes the first corner of the race.18:03
4 '
Mariani is recalled to the VAR for a hand contact by Ceccaroni in the area on a high leg turn by Fazio.18:05
5 '
SALERNITAN PENALTY! Mariani after having seen the images assigns the penalty to the Campania region.18:05
5 '
WARNED Ceccaroni for hand ball.18:05
7 '
GOAL! SALERNITANA-Venice 1-0! Penalty by Bonazzoli. Dry low shot, Maenpaa immobile, Bonazzoli cold from 11 meters.
Look at the player's card Federico Bonazzoli18:07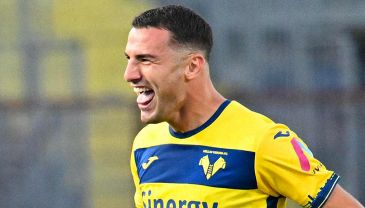 9 '
Okereke stretches for Mateju, Zortea contains it.18:09
11 '
Ederson from the edge, right walled by Caldara.18:13
12 '
The action continues, Coulibaly tries from outside, a slipper picked up by Maenpaa.18:13
14 '
Launch for Okereke, Sepe arrives first.18:15
16 '
Round ball of the orange and green, high pressing of the grenade.18:16
18 '
Guests struggle to react, rhythms slightly lowered.18:19
20 '
Punishment from Fazio, Maenpaa comes out badly, touching her in the corner.18:20
21 '
Fazio in offensive projection, earns another corner.18:21
22 '
From corner, melee in the orange-green area, Ederson's fortuitous deviation, slightly out.18:22
24 '
Ceccaroni falls on the wing, a cross too backward for everyone.18:40
26 '
Ampadu's long throw, Henry extends his header, Caldara and Aramu are stopped by Radovanovic.18:30
28 '
Fazio on the ground, playing stopped for a few moments.18:28
30 '
Coulibaly earns a free kick from a favorable position, Ampadu's foul.18:30
31 '
Radovanovic beats, violent but central low shot, Maenpaa without problems.18:31
33 '
Ederson tries to break through centrally, Svoboda does not let himself be overcome.18:34
34 '
Attempt from distance by Coulibaly, right in the curve.18:34
36 '
Ceccaroni spreads Mazzocchi, another punishment for the grenade.18:36
37 '
SALERNITAN OPPORTUNITY! Mazzocchi's punishment, Gyomber's overturned, Bonazzoli puts in the middle, Fazio svirgola, Djuric's paw saved on the line by Caldara.18:39
37 '
Henry's restart, Okereke engages Sepe but is offside.18:38
39 '
Ampadu along the line for Ceccaroni, a suggestion too deep.18:40
41 '
Mazzocchi's cross, Caldara vanishes in a corner.18:42
42 '
From a corner, Coulibaly's shot at the bell tower, Maenpaa's smanacciata, Ederson on the fly shoots into orbit.18:43
44 '
Okereke looks for Aramu in the box but is offside.18:45
45 '
Two minutes of recovery.18:46
45 '+ 3'
END OF FIRST HALF. Salernitana-Venezia 1-0, Bonazzoli's penalty decides.18:48
At the start Mariani assigns a penalty to Campania on the developments of the first corner, for a hand contact by Ceccaroni on a high turn by Fazio, Bonazzoli realizes it. The hosts close to doubling in the scrum, intangible orange-green forwards.18:50
Nicola can be satisfied with the result, he must avoid drops in concentration; Soncin needs to study alternatives, especially in the median, the team is struggling to build.18:51
We would love to say thanks to the writer of this post for this incredible material

Live Salernitana – Venice: 1-0 Serie A 2021/2022. Live the match – Virgilio Sport


Our social media pages here and other related pages herehttps://prress.com/related-pages/