Where the game is played:
Stadium: Romeo Menti of Vicenza
City: Vicenza
Capacity: 17163 spectators13:18
At Menti everything is ready for Vicenza-Lecce, 37th matchday of Serie B.13:18
Head to tail between the red and white, in need of saving points, and the yellow and red, determined to consolidate the first place in the standings and celebrate the promotion to A.13:24
Here are the formations. Vicenza with 3-4-2-1: Contini – Brosco, De Maio, Bruscagin – Maggio, Zonta, Cavion, Lukaku – da Cruz, Ranocchia – Diaw. Available: Grandi, Cappelletti, Padella, Pasini, Alessio, Crecco, Cester, Bikel, Boli, Dalmonte, Meggiorini, Giacomelli.13:40
4-3-3 for Lecce: Gabriel – Gendrey, Lucioni, Dermaku, Gallo – Blin, Hjulmand, Gargiulo – Strefezza, Coda, Di Mariano. Available: Plizzari, Bleve, Barreca, Calabresi, Tuia, Majer, Bjorkengren, Helgason, Listkowski, Asencio, Rodriguez, Ragusa.13:42
Baldini chooses Zonta-Cavion in the middle line, with da Cruz and Ranocchia supporting Diaw.14:01
Baroni confirms the same initial XI capable of beating Pisa: in attack, continuity to the trident formed by Strefezza-Coda-Di Mariano.13:35
The warm-up phases are over, soon the start of the race directed by Mariani.13:46
1 '
START Vicenza-Lecce, ball to the Giallorossi.14:01
1 '
Launch for Diaw that engages Gabriel but was started in an irregular position.14:03
3 '
Phases of study at the start, the two teams face each other on the median.14:05
5 '
Strefezza complains of a touch with Bruscagin's hand in the area, arm attached to the body.14:07
6 '
Attempt from Coda's distance, a conclusion to forget.14:07
8 '
Problems with the shoe for Gabriel, game stopped for a few moments.14:10
10 '
Throw for Diaw, right dampened by Dermaku, Gabriel collects the ball.14:12
12 '
Fanned out for May, Gallo contains it.14:14
13 '
Diaw slips away on the left, Lucioni concedes the first corner of the race.14:15
15 '
Giro ball of the Giallorossi, the hosts defend themselves with order.14:18
17 '
OPPORTUNITY LECCE! Strefezza talks with Hjulmand, violent right at the near post, Contini attentive.14:18
17 '
From corner, Dermaku's header, wide wide.14:19
19 '
Gallo reaches the bottom, a badly calibrated cross.14:21
21 '
Gallo still active on the left, doubled, does not pass.14:24
23 '
Strefezza receives the limit from Gallo, right over the crossbar.14:24
24 '
Percussion by da Cruz, high right.14:25
25 '
da Cruz opens for Lukaku, Blin takes refuge in the corner.14:27
27 '
Di Mariano escapes on the left, too much cross on the goalkeeper.14:29
29 '
The red and white stretch forward, gaining a corner.14:33
31 '
From corner, header by De Maio, central, no problem for Gabriel.14:33
32 '
Diaw touches back for Lukaku, shuffle on the bottom.14:34
34 '
Problems for Blin, the change is prepared.14:36
35 '
LECCE REPLACEMENT. Blin can't go on, space for Helgason.14:37
38 '
WARNED Lucioni, spread Diaw launched at the net.14:40
40 '
Punishment from Ranocchia, directly on the bottom.14:41
42 '
VICENZA OPPORTUNITY! Dermaku's back pass, Gabriel risks the omelette by missing the stop but manages to sweep before the ball enters.14:44
43 '
WARNED Diaw, withheld on Di Mariano.14:45
44 '
As soon as Diaw is warned, he is late on Gabriel, Mariani pardons him.14:45
45 '
Three minutes of recovery.14:47
45 '+ 3'
END OF FIRST HALF. Vicenza-Lecce 0-0, white goals at the interval.14:50
Race blocked, the nervousness of the stake is noticeable, Strefezza engages Contini with a violent right at the near post, Gabriel risks the sensational duck by missing the stop on a Dermaku back pass. Injury for Blin.14:58
Baldini needs to find offensive alternatives to the long pass towards Diaw, currently too isolated; Baroni must raise the pace and the quality of the plays on the trocar.14:54
46 '
THE SHOOTING BEGINS. Vicenza-Lecce 0-0, no change during the interval.15:06
48 '
Acceleration by Di Mariano, De Maio sweeps in the corner.15:09
50 '
Strefezza opens for Di Mariano, Bruscagin is well positioned.15:12
52 '
Lukaku crosses, Hjulmand touches for a corner.15:13
53 '
Restart of Di Mariano, Zonta stops him in the corner.15:14
54 '
Strefezza earns a free kick from a favorable position, a foul by Bruscagin.15:16
56 '
PALO LECCE! Coda brushes the right hand on a free kick, Contini immobile, the ball hits the wood, Helgason shoots high.15:18
57 '
Di Mariano crosses low from the left, De Maio anticipates Coda in a corner.15:19
58 '
OPPORTUNITY LECCE! On the developments of the corner, Strefezza's dry low shot, slightly out.15:19
59 '
OPPORTUNITY LECCE! Gallo pushes on the wing, Strefezza dribbles Zonta but wastes face to face with Contini.15:21
61 '
REPLACEMENT VICENZA. Baldini calls Zonta and puts in Meggiorini.15:24
62 '
OPPORTUNITY LECCE! Di Mariano unloads centrally for Strefezza who places the right, Contini gets there with his fingertips.15:23
64 '
Attempt from outside of Frog, weak and central, Gabriel without problems.15:26
65 '
Cross cut by Strefezza, Di Mariano does not reach us by a whisker.15:26
67 '
Di Mariano is looking for a cut in the Gargiulo area, a suggestion that is too deep.15:29
69 '
GOAL! Vicenza-LECCE 0-1! Network of Strefezza. Played by Strefezza who places the left at the intersection with a slight detour by De Maio, Contini can do nothing.
Look at the player's profile Gabriel Strefezza15:31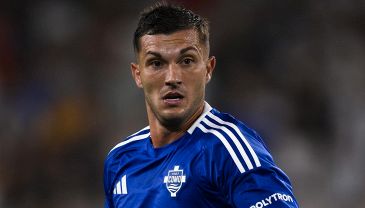 72 '
Contini collapses to the ground after the explosion of a firecracker launched in the guest sector. 15:36
74 '
REPLACEMENT VICENZA. Contini goes out on a stretcher, space for Grandi.15:36
75 '
REPLACEMENT VICENZA. Fresh energy on the wing: Crecco for Lukaku.15:36
75 '
REPLACEMENT VICENZA. All-in by Baldini: Giacomelli for Bruscagin.15:37
76 '
The race has not yet resumed.15:37
79 '
WARNINGS Fatigue for excess of exultation.14:41
79 '
Mariani resumes the race after a ten-minute break.15:43
80 '
Gargiulo in the corridor for Di Mariano who from a tight angle does not frame the mirror.15:44
83 '
LECCE REPLACEMENT. The race ends for Di Mariano, remnants for Listkowski.15:44
83 '
LECCE REPLACEMENT. Applause for Strefezza, presence for Ragusa.15:45
84 '
Crecco from the bottom, Lucioni dominates the area.15:45
87 '
Free kick from Ranocchia, header from Diaw, ball in orbit.15:48
89 '
Cross by Listkowski, Grandi smanaccia colliding with Crecco, game stopped.15:50
90 '
Meggiorini falls into the area under pressure from Helgason, Mariani pushes on.15:52
90 '
Fourteen minutes of recovery.15:52
90 '+ 1'
Mariani is called back to the VAR to evaluate the Meggiorini-Helgason contact.15:52
90 '+ 2'
PENALTY VICENZA! After reviewing the images at the VAR, Mariani grants the penalty to the red and white for a foul by Helgason on Meggiorini.15:53
90 '+ 3'
PENALTY SAVED! Meggiorini from the spot, weak left and central, Gabriel blocks in two halves.15:54
90 '+ 4'
Mariani has the penalty repeated, Gabriel moved before the serve.15:55
90 '+ 4'
GOAL! VICENZA-Lecce 1-1! Penalty by Diaw. Meggiorini leaves the task to Diaw, right in the corner, Gabriel guesses the trajectory without being able to deviate.
Look at the player's card Davide Diaw15:57
90 '+ 5'
REPLACEMENT VICENZA. Outside Cavion, inside Dalmonte.15:57
We would love to say thanks to the writer of this short article for this incredible material

Live Vicenza – Lecce: 1-1 Serie B 2021/2022. Live the match – Virgilio Sport


Find here our social media profiles , as well as other pages related to it.https://prress.com/related-pages/