Thank you for following the live broadcast of this match with us, see you in the next round of Serie A!17:04
In the next round of the championship for Salernitana, an away match on Fiorentina's field, Cremonese will play at home against Milan.17:03
The match between Salernitana and Cremonese ends in a draw (2-2) after a flurry of emotions: Piatek unlocks the result after just three minutes, Okereke scores on 12 ', Coulibaly on 38' brings the hosts back ahead. In the second half Ciofani scores the equalizer after a penalty saved by Sepe in the 89th minute. Injury for Lovato.17:03
90 '+ 9'
End of the game: SALERNITANA-CREMONESE 2-2 (3 'Piatek, 12' Okereke, 38 'Coulibaly, 89' Ciofani).16:59
90 '+ 8'
Cremonese closes in attack, recovery extended further.16:58
90 '+ 6'
Medical staff of Salernitana in the field, problems for Fazio.16:56
90 '+ 5'
Conclusion from the long distance of Vilhena, the ball very wide.16:54
90 '+ 2'
SALERNITAN OPPORTUNITY! Vilhena left from a tight angle does not frame the target.16:52
90 '+ 1'
The referee allowed seven minutes of injury time.16:51
90 '
SEPE warned for protests.16:51
89 '
GOAL! Salernitana-CREMONESE 2-2! Ciofani Network. Diving Sepe rejects the penalty beaten by Ciofani, but can do nothing on the attacker's tap-in.
Look at the player's profile Daniel Ciofani16:53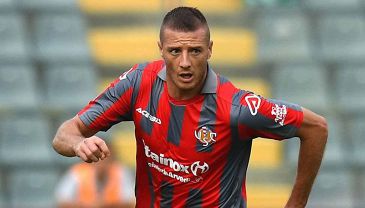 89 '
PENALTY SAVED! Sepe intercepts the penalty kick beaten by Ciofani.16:49
88 '
Penalty to be repeated: Sepe rejects Ciofani's 11-meter shot, but moves early. Castagnetti had scored on the rebound.16:53
85 '
PENALTY FOR CREMONESE! The referee, after reviewing the images, concedes the penalty for a foul by Fazio on Zanimacchia.16:46
85 '
Var control in progress for a contact in the Salernitana area between Zanimacchia and Fazio.16:44
84 '
Cross from Valeri, touches Zanimacchia ahead of Fazio, Ciofani with his left does not find the door.16:44
82 '
SALERNITANA substitution: Botheim enters Dia.16:41
82 '
SALERNITANA substitution: Bohinen enters Radovanovic exits.16:41
80 '
CREMONESE substitution: Castagnetti enters Meite exits.16:40
79 '
Unfavorable rebound for Bonazzoli, ball in lateral foul. The Cremonese restarts.16:39
76 '
CREMONESE substitution: Felix enters Okereke exits.16:35
75 '
CREMONESE substitution: Ciofani enters Tsadjout exits.21:57
74 '
Punishment from the trocar for Salernitana, foul by Meité on Vilhena.16:33
72 '
Valeri's low cross from the left, Fazio sweeps without frills.16:32
69 '
Hard contrast between Sernicola and Bradaric, both in pain on the ground.16:29
67 '
CREMONESE substitution: Zanimacchia enters Buonaiuto.16:27
67 '
CREMONESE substitution: Valeri enters Quagliata.16:26
67 '
SALERNITANA substitution: Bonazzoli enters Piatek exits.16:26
67 '
SALERNITANA substitution: Vilhena enters Candreva exits.16:26
65 '
Sernicola with the header commits Sepe, but the Cremonese full-back started in an offside position.16:25
64 '
Pirola's launch from behind, too long for Bradaric.16:23
62 '
Quail in the area kicks from the left from a decentralized position, ball on the outside of the net.16:22
59 '
High pressure from Cremonese, Sepe forced to make a long relaunch.16:18
56 '
Prolonged action of the Cremonese, Bronn removes the threat.16:16
53 '
Coulibaly risks in disengagement, Buonaiuto fails to control the ball.16:13
51 '
SALERNITANA substitution: Pirola enters Lovato exits.16:10
50 '
Lovato leaves the field on a stretcher, cervical trauma for the defender.16:12
48 '
Problems for Lovato, medical staff on the field.16:08
47 '
Tsadjout's poisonous left, Sepe takes the ball in two stages.16:07
46 '
Start of the second half of SALERNITANA-CREMONESE. It starts again without changes.16:04
Ball possession in favor of Salernitana in the first half: 57%.15:55
Salernitana ahead of measure after a first fraction full of emotions: Piatek at 3 'unblocks the result, Okereke at 12' equalized the score with a fine volley. At 38 'Coulibaly wedges himself in the area and signs the 2-1 goal.15:52
45 '+ 2'
End of the first half: SALERNITANA-CREMONESE 2-1. Piatek, Okereke and Coulibaly scored.15:48
45 '
Referee Marchetti grants one minute of recovery.15:46
44 '
SERNICOLA warned for unfair play on Bradaric.15:45
42 '
CREMONESE OPPORTUNITY! Buonaiuto snatches the ball from Lovato, enters the area and concludes towards the goal: Sepe exits effectively opposes.15:46
40 '
HENDRY warned for foul play on Dia.15:41
38 '
GOAL! SALERNITANA-Cremonese 2-1! Network of Lassana Coulibaly. Candreva's suggestion, Coulibaly overtakes Lochoshvili and from a tight angle pushes Carnesecchi to the near post. The ball passes between the goalkeeper's legs.
Look at the player profile Lassana Coulibaly15:41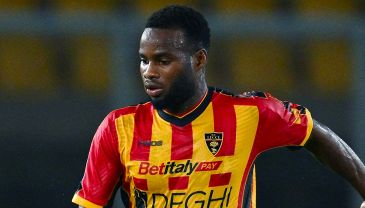 37 '
Attacks Salernitana, Coulibaly in the area loses the moment to go to the shot.15:41
36 '
Sernicola with a header, but is in an irregular position on Buonaiuto's cross.15:37
33 '
SALERNITAN OPPORTUNITY! Scrum in the area, Piatek rejects Dia's close range shot, the Polish striker then tries his heel but is closed by the host defense.15:36
32 '
Cross shot by Candreva, Aiwu harpoons the ball before Piatek.15:33
31 '
Set kick beaten by Buonaiuto, Bronn with head anticipates Okereke. Corner for the Cremonese.15:32
29 '
Aiwu on the ground in pain, the referee stops the game: nothing serious.15:30
27 '
Quagliata steps forward and kicks left towards the goal, shot blocked by Bronn's body.15:28
25 '
Buoniuto from the flag, Piatek heads free the penalty area.15:26
23 '
Cremonese protests for a contrast in the area between Tsadjout and Lovato after a cross from Buonaiuto, the referee does not intervene.15:25
22 '
Tsadjout tries from distance, without success: high ball.15:23
21 '
Quagliata's cross, Bronn intercepts the ball.15:22
19 '
Okereke takes the shot from a tight angle, but the equalizer is offside.15:21
16 '
Problems for Coulibaly after a conflict with Meité, I play stopped for a few moments.15:17
15 '
Meité recovers the ball in the middle of the field, Okereke's cross, Fazio sweeps.15:16
12 '
GOAL! Salernitana-CREMONESE 1-1! Okereke network. Aiwu launches, Tsadjout wins the aerial duel with Lovato, Okereke with a left-footed flight from the edge of the area pierces Sepe.
Look at the player's profile David Okereke15:14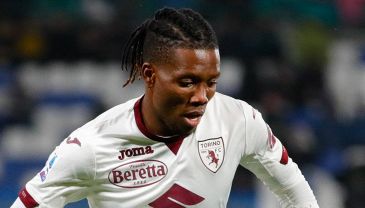 10 '
Counterattack of Salernitana led by Candreva, Aiwu keeps a good guard on Bradaric.15:11
8 '
FAZIO booked for foul play on Tsadjout.15:09
6 '
Phrasing of the Cremonese, Sernicola is caught in an irregular position on the launch of Okereke.15:08
3 '
GOAL! SALERNITANA-Cremonese 1-0! Piatek network. Candreva's cross deflected, Carnesecchi freaks out, touches Aiwu, Piatek sings himself on the ball and bags from a few steps from the goal.
Look at the player profile Krzysztof Piatek15:05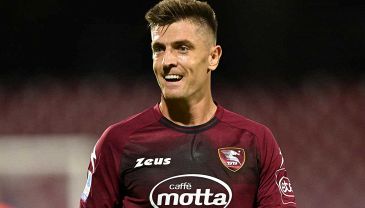 1 '
First half of SALERNITANA-CREMONESE. Referee Marchetti directs the match.15:01
Salernitana and Cremonese meet for the first time in Serie A.14:20
Alvini's choices: Okereke and Tsadjout in attack, Buonaiuto in support. Out Dessers. In defense space to Henrdy and Aiwu. Pickel and Meite in the median. Between the posts is Carnesecchi.14:19
Nicola's choices: Dia-Piatek tandem forward, Bonazzoli on the bench. Radovanovic in the direction, Bradaric and Mazzocchi the exteriors. In defense there is Lovato with Bronn and Fazio.14:16
CREMONESE bench: Sarr, Saro, Valeri, Vasquez, Castagnetti, Baez, Milanese, Escalante, Acella, Felix, Ascacibar, Ghiglione, Ciofani, Zanimacchia.14:15
SALERNITANA bench: Micai, Fiorillo, Pirola, Daniliuc, Sambia, Maggiore, Bohinen, Vilhena, Capezzi, Kastanos, Iervolino, Botheim, Bonazzoli, Valencia.14:08
CREMONESE formation (3-4-1-2): Carnesecchi – Aiwu, Hendry, Lochoshvili – Quagliata – Pickel, Meite, Sernicola – Tsadjout – Buonaiuto, Okereke.15:09
SALERNITANA formation (3-5-2): Sepe – Bronn, Lovato, Fazio – Mazzocchi, Candreva, Radovanovic, Coulibaly, Bradaric – Dia, Piatek.14:08
It is shortly before the beginning of Salernitana-Cremonese. Hosts returning from two consecutive victories.14:06
Welcome to the live match of the 13th day of Serie A, Salernitana and Cremonese face off.14:05
Where the game is played:
Stadium: Arechi
City: Salerno
Capacity: 37894 spectators14:05
We would like to say thanks to the writer of this write-up for this amazing content

Salernitana – Cremonese: 2-2 Serie A 2022/2023. Final result and commentary on the match – Virgilio Sport


Explore our social media accounts and other pages related to themhttps://prress.com/related-pages/